Our Experts Weigh In: 2022 Predictions and Trends for the Automotive Industry
Dec 15, 2021
The CAMP 360 team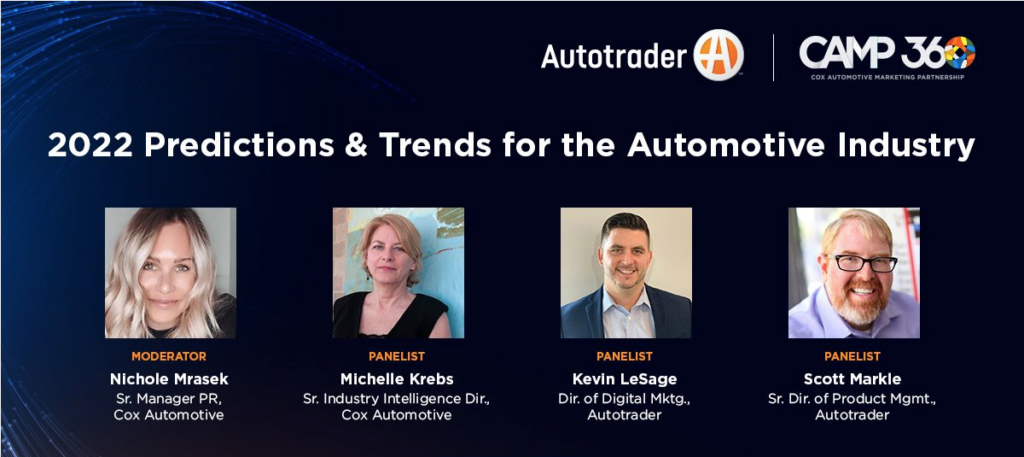 2021 was wild. Between inventory shortages, changing consumer behaviors, and the ongoing pandemic, the team at Cox Automotive is looking ahead to what's in store for 2022. Our recent webinar focusing on the year ahead was packed with strategic updates from several Cox Automotive executives from across the business. Here are some of the key takeaways from the event.
From Michelle Krebs, Senior Industry Intelligence Director, Cox Automotive
While the story this year has been the global computer chip shortage and subsequent production cuts, vehicle inventory crunch and ultimately the impact on sales, it's important to also note the fast rise of electrified vehicle sales as we head into 2022. From an industry trends perspective, the key factors for 2022 will be:
New Vehicle Sales: We anticipate the chip situation will improve progressively throughout 2022. But we expect inventory to continue to be very tight as it will take time to re-fill the pipeline. As a result, prices will stay high. We expect demand to continue to be extremely strong, and economic factors such as credit availability and interest rates support a strong market. So, we are forecasting 2022 sales to come in at 16 million and increase to 16.7 million in 2023.
Electrified Vehicles: While new vehicle sales fell 13% through the end of Q3, electrified sales soared by 60%. Market share is now 10% of the market – double the year before. The bulk of that is hybrids/plug-in hybrids. Our Kelley Blue Book Q3 Brand Watch showed one in four shoppers considered an electrified vehicle – the highest interest we've ever seen. We believe that interest and sales will grow especially as more models are introduced. More models will continue to enter the market from more brands – with more than 100 electric models predicted by the end of 2024.
Economic Trends: Demand will be strong. More buyers, many who postponed purchases, will jump back into the market as inventory improves. Prices both new and used will remain high. Consumers recognize they will have to pay higher prices and may have to wait for the vehicle purchase. We'll likely see more consumers put down deposits – sort of "order" vehicles, and more of the buying process will keep moving online
From Kevin LeSage, Director of Digital Marketing, Autotrader
With the macroeconomic trends in mind, it's important to consider how to translate these trends into actionable OEM to dealer digital marketing plans for 2022. As Michelle mentioned, the buying process continues to move online. The key to future success is using efficient digital marketing tools to reach the right customer. Here are some key strategies to consider:
Quality audience is key: Accuracy in audience data will be more important than the platform itself. Look for partners that build audiences in real time (by the hour). If your data isn't in real time or relevant, it creates waste and frustration for consumers being served content that doesn't make sense for where they are in their journey.
Create long-term customers: It's more important than ever to understand consumer behavior with a 360-degree, up-to-the-hour view of automotive consumers. With leases being extended and many shoppers willing to wait for inventory to improve, you have to be able to meet the customer where they are in an ever-evolving shopping journey with content that's relevant and keeps them interested.
Normalize and activate the data you already have: Most OEMs and dealers can start innovating with the data that they already have at their fingertips. Once you can ensure the existing data is normalized, go get new customers into your CRM to keep feeding the data machine. You need really great first-data partners to better understand your customers.
From Scott Markle, Senior Director of Product Management, Cox Automotive
By understanding the economic trends and how that translates into digital marketing strategies, it gives OEMs and dealers a place to start in 2022 tactical planning. The products and partners you choose can make or break the efficacy of your data. Here's some things to keep in as you look to the future:
Consumer privacy and transparency: Consumer concern around privacy is on the rise, and they are demanding more transparency. With more data regulations on the horizon, it's important to find partners acutely tuned in to product innovation. You have to build trust with consumers through the value being provided.
First-party consented data: First-party consented data is the new foundation for audience and activation. OEMs and dealers must think about how your partners are collecting data and ensure they are compliant. Ask your partners if they offer a clean room as a way to share data safely. This helps clients unlock more value from data while providing flexibility for custom analysis to create really unique predictive data.
The future is connection: In 2022 and beyond, building a real connection with consumers, based on authentication and persistent identifiers will be the key to success. If you maximize your first-party data, you'll be able to understand who your consumer truly is and what they truly want. This takes partnerships, like CAMP 360, to build a long-term view of your client and allows you additional data sets.
Want to learn more about how CAMP 360 can help you prepare for 2022 and beyond? Click here.