Maximizing Content to Drive Consumer Decisions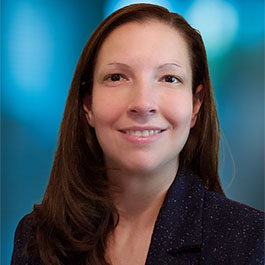 Jun 30, 2022
Angela Drake, Cox Automotive Senior Research Manager
Many have heard the phrase "content is king" – a saying coined by Bill Gates nearly 30 years ago. At that time, it was the rise of the Internet that forever changed consumer behaviors and pushed content marketing into the mainstream.
Fast forward to now, and content marketing is once again at the forefront and gaining significant momentum. With the pandemic fueling a shift to e-commerce, many businesses across all industries are rethinking how to most effectively connect with consumers through relevant content. Because the overall goal has always been, and will continue to be, to maximize your content to DRIVE consumer decisions.
What Is Content Marketing?
" A technique of creating and distributing

valuable, relevant and consistent content to

attract and acquire a clearly defined audience –

with the objective of driving profitable customer action.

– Content Marketing Institute
This is just one definition of many that I'm sure you might have seen before from various sources. But, one theme across all definitions, is that content marketing is about education, not promotion. The keyword here is "valuable". If the content provided doesn't add value to a shopper's journey, then it likely won't be effective.
There are many advantages to content marketing that work, such as building customer trust and loyalty, improving SEO, increasing your reach to new people and audiences as well as increasing website traffic. And although those main four goals of content marketing have not changed much over the last few years, what HAS changed in the automotive shopper's journey are the behaviors as well as preferences in how, when and where to maximize your content.
The Stages of the Shopper Journey
The automotive consumer journey contains two important stages. Stage 1 includes: explore, consider, select, and buy. Stage 2 includes that last and final stage in a shopper's journey: own.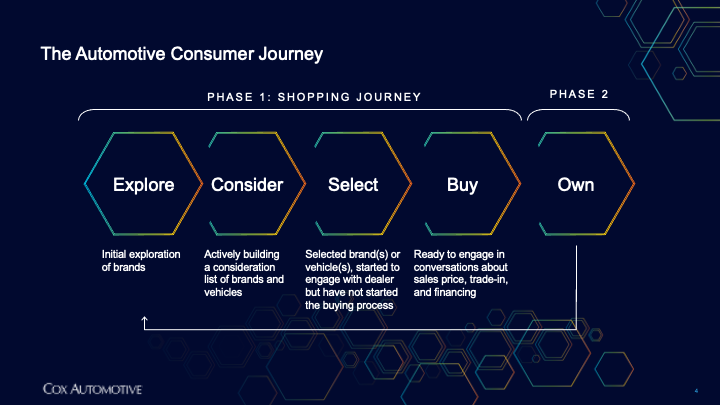 An exceptional automotive content marketing strategy reaches a consumer in all stages of their journey – it accompanies them as a valuable resource in all instances whether they are a shopper in market for a vehicle (in the Explore, Consider, Select, or Buy stage) or an owner (in the Own stage) looking for general car care information. Content marketing allows you to cover all parts of the journey at one time.
When focusing on Stage 1 – the shopping phase – Cox Automotive recently partnered with research experts GFK on our 2022 Content Influence Study. Based on surveys among over 2,000 new vehicle buyers and shoppers, we found that an overwhelming 83% used content marketing sources when researching their upcoming vehicle purchase.
Notably, this percentage is down from 88% in 2021 – likely the result of consumer shopping behaviors starting to normalize as we begin to put the pandemic in our rearview mirror. Regardless, 86% said they plan to use content marketing sources again when researching future vehicle purchases. And this trend is not unique to automotive. In a recent study by Lucidpress, 85% of marketers surveyed report an increase in demand for content among their customers over the last year – giving many businesses good reason to increase their content marketing budgets even more in 2022.
Types of Content Consumers Prefer
It's no secret, consumers expect personalized interactions, and nearly all of them get frustrated when this doesn't happen. And automotive buyers are no exception. Yes, content marketing focuses on distributing valuable and relevant content to a reader, but consumers definitely have preferences on what types of content they are willing to view and engage with, as well as what formats they prefer.
To help us better understand where content marketers should invest in 2022, in a recent Cox Automotive study we asked shoppers to tell us what they prefer the most – content that you read or content that you watch. We also asked what type of content marketing sources have the greatest influence over vehicle selection. The results tell us that shoppers today have a higher preference for consuming content through videos that are both engaging as well as interactive.
Find the order of preference listed below in types of content that had the GREATEST influence over vehicle selection in the purchase process:
Consumer ratings & reviews (43%)
Online video reviews from an expert (43%)
Online test drive videos from an expert (41%)
Official expert car ratings & awards (40%)
'Top lists" of best vehicle models (37%)
Side-by-side comparisons of models (36%)
Articles about vehicles, new tech/features (30%)
BEST PRACTICES: When creating video marketing content, it's important PRIOR to creating the content to know the needs of your audience and make sure they are addressed from beginning to end. According to our research, consumers aren't looking for a lot of special effects or entertainment. The main point of your video should be to add value to their journey, and that is accomplished by giving them content which they find informative, simple, informational, and educational.
Keys to Success
The keys to success when it comes to creating and maximizing your content marketing efforts can be placed in 2 categories: those related to process and those related to content.
PROCESS:
Strategy – Have a documented content marketing strategy. The Content Marketing Institute has found that having a documented strategy is highly correlated with success because it will help align your team around common goals, makes it easier to determine which types of content to develop, and it keeps the team focused on documented priorities.
Dedicated Focus on Content – Research shows that having dedicated resources is a common characteristic across companies that are most successful in content marketing. You need a partnership that can help drive deliverables and is responsible for keeping your content up to date.
CONTENT:
Provide Value – Prioritizing consumer information needs over promotional messages is the key. Just remember that it isn't considered content marketing unless it provides value to your customer.
Stand Out – Part of truly maximizing your content is making sure to differentiate YOUR content from the competition. Your brand has a niche: there are things that distinguish you from the rest of the automotive world in the minds of your audience. Tap into these things every time you create a piece of content.
Customer Journey – Craft content based on stages of the consumer journey. By diversifying your content across each stage of the journey, your experience will be more personalized to your customer.
No matter WHAT type of content marketing you're focusing on in 2022, make sure to leverage your Cox Automotive Marketing Partnership team to make sure your content is reaching the right shopper, at the right time, with the right message. CAMP 360: it's more than media, it's data that drives.
Want to see all the highlight stats from the GFK research that was conducted on content marketing for Cox Automotive? Click HERE for immediate access!