The Big CPO Opportunity in 2023
Oct 24, 2022
CAMP 360 Marketing Team
With elevated vehicle prices, CPO vehicles have become more attractive to buyers who don't want to spend new car money but want the peace of mind that comes with warranty protection.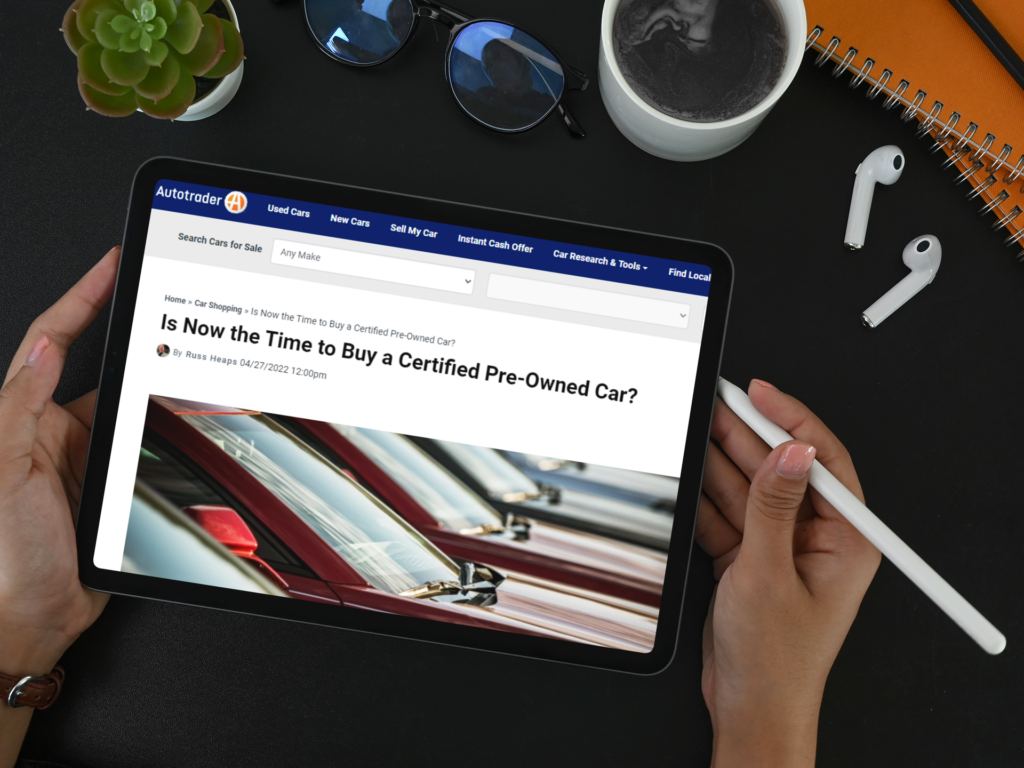 It's becoming harder than ever to afford a new vehicle. The average American who bought a new car in September signed up for a $738 monthly payment. That's a record high for consumers to consider when determining if they can afford one.
But that doesn't mean that life stops just because there's higher monthly payments, tight inventory, and fewer incentives. Despite these headwinds, consumers still need vehicles, and they're willing to change their minds for the right opportunity.
As your trusted partner, Cox Automotive is right there alongside you to help navigate changes in the automotive industry, so that you can still drive more engagement with the consumer and continue to deliver more vehicle sales. With that in mind, let's take a deeper look at what's shaping up to be big CPO opportunities for 2023!
" Demand remains robust for certified vehicles as the new market continues to be very supply constrained and CPOs offer the best substitute for consumers."

– Jonathan Smoke | VP Chief Economist | Cox Automotive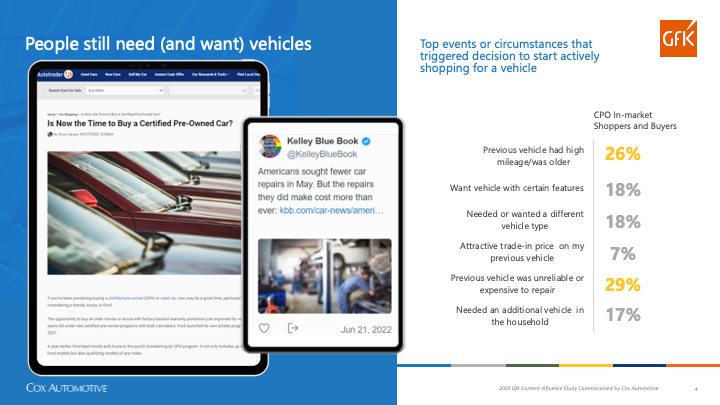 Shoppers Still Need Vehicles 
First the good news…shoppers still need vehicles, and there are many reasons that triggered Certified Pre-Owned shoppers to enter the market.
Our 2022 Gfk Content Influence research shows that the top reasons these CPO shoppers entered the market were:
29% – their previous vehicle was deemed unreliable or deemed too expensive to repair

?

26% – triggered due to their previous vehicle having high mileage and/or it was older

?
These shoppers can't afford to wait for a better price. They know prices are high, and unfortunately, they can't delay for that long.
CPO vehicle interest increases, and cross-consideration intensifies 
The new car market continues to feel the impacts of high-inflation and elevated prices, which is also making CPO vehicles more attractive to buyers who don't want to spend new car money, however, want the peace of mind that comes with warranty protection. And we're seeing a rising interest for certified vehicles on Autotrader:
Most impressive were the September CPO results:
+17% VDP Visitors Year over Year

?

+26% Vehicle Details Page Views Year over Year

?

Pencils are up +76% Year over Year

?
Something else that should be on our industry's radar, as interest increases, many shoppers are considering multiple brands and segments to find a vehicle that meets their needs. So getting in front of the CPO buyer, as well as staying side by side with them throughout their car purchase journey, should be a priority.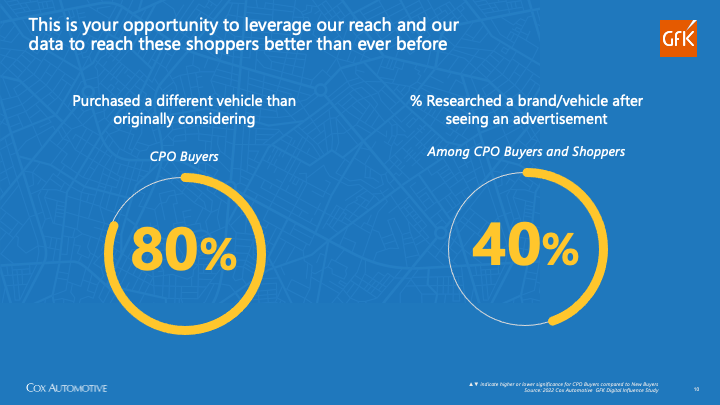 CPO Car Shoppers are Willing to Change Their Mind 
A key thing all OEM's and Dealers need to be aware of is that even in today's market conditions, our 2022 Digital Influence research with GFK shows that car shoppers are still willing to change their minds for the right opportunity. You not only need to know if your vehicle is in their consideration set, but also what you're up against competitively, from brand preference to inventory availability.
It's a staggering statistic that 80% of CPO buyers bought vehicles that were different than what they originally considered. And just as important to call out, automotive advertising has persuaded them to research vehicles after exposure. Especially on third-party sites, which are valuable in helping shape brand decisions.
40% of CPO customers stated auto ads motivated them

to research a different car than they originally considered
That's right… 2 out of every 5 CPO customers stated automotive ads motivated them to research a different car than they originally considered. This data should give you an extra incentive as you plan the year ahead to not only stay in front of your target audiences, but put an increased focus on getting in front of new audiences. Because the brand they thought they wanted to purchase, might not end up being the brand they ultimately purchase.
Where the Majority of a CPO Purchasers' Time is Spent 
Although the decision and purchasing timeframes have shortened over time, we now see more time devoted in the exploration phases for a CPO purchaser. Working with a partner to find shoppers further out from purchase, before they're even giving you an indication that they're doing anything, will offer the greatest opportunity for influence.
CPO buyers reported they spent the most time trying to find actual vehicles for sale, which should be of no surprise due to tight inventory. Of equal interest is that they are also heavily comparing different models by researching reviews, options, and pictures, as well as researching vehicle pricing.
Here are the Top 4 Activities research shows a CPO buyer spent the most time doing:
Find actual vehicles listed for sale
Compare different models using reviews, options or pictures
Research vehicle pricing
Browse vehicle images
CAMP 360 – Data That Drives
Cox Automotive understands your CPO shoppers. And with your partnership, our data can make your data drive efficient and more informed marketing decisions.
Your marketing partnership follows CPO buyers along the full purchase horizon, every step of the way. We're seeing half of CPO site visitors 6+ months out from purchase, which is the optimal time to reach and influence them, before they have decided. It's why you need a first-in-class data partner to help you find those shoppers, to not only get their attention, but keep their attention.
It's more important than ever for advertisers to be front and center at the critical decision points along the CPO's car purchasing journey in order to influence consideration and reinforce brand loyalty. Especially as you focus on your marketing strategy for 2023.
Because with the power of your Cox Automotive Marketing Partnership alongside you, our successes, data, audiences and destinations can be yours. Powered by advanced AI learning capabilities and proven by transparent reporting, CAMP 360 utilizes first-party data across the entire customer journey to ensure the right CPO message and content is reaching, and most importantly, resonating with CPO shoppers in the moments that matter most.
Sources: ​
2022 Gfk Content Influence Study Commissioned by Cox Automotive
2022 Gfk Digital Influence Study​ Commissioned by Cox Automotive
Autotrader September 2022 Site Metrics
COX Auto BTR based on Drive IQ; Visits = January 2021 – Dec 2021; Sales = January 2021 – Aug 2022​
Are you ready for data that drives? To seamlessly integrate content and native advertising within a personalized environment? If so – find out more about a CAMP 360 data-driven marketing partnership by clicking HERE.