User First Experience: How the New KBB.com Is Creating Music to New Car Shoppers' Ears
Mar 3, 2021
With Alec Gutierrez
Estimated reading time: 4 minutes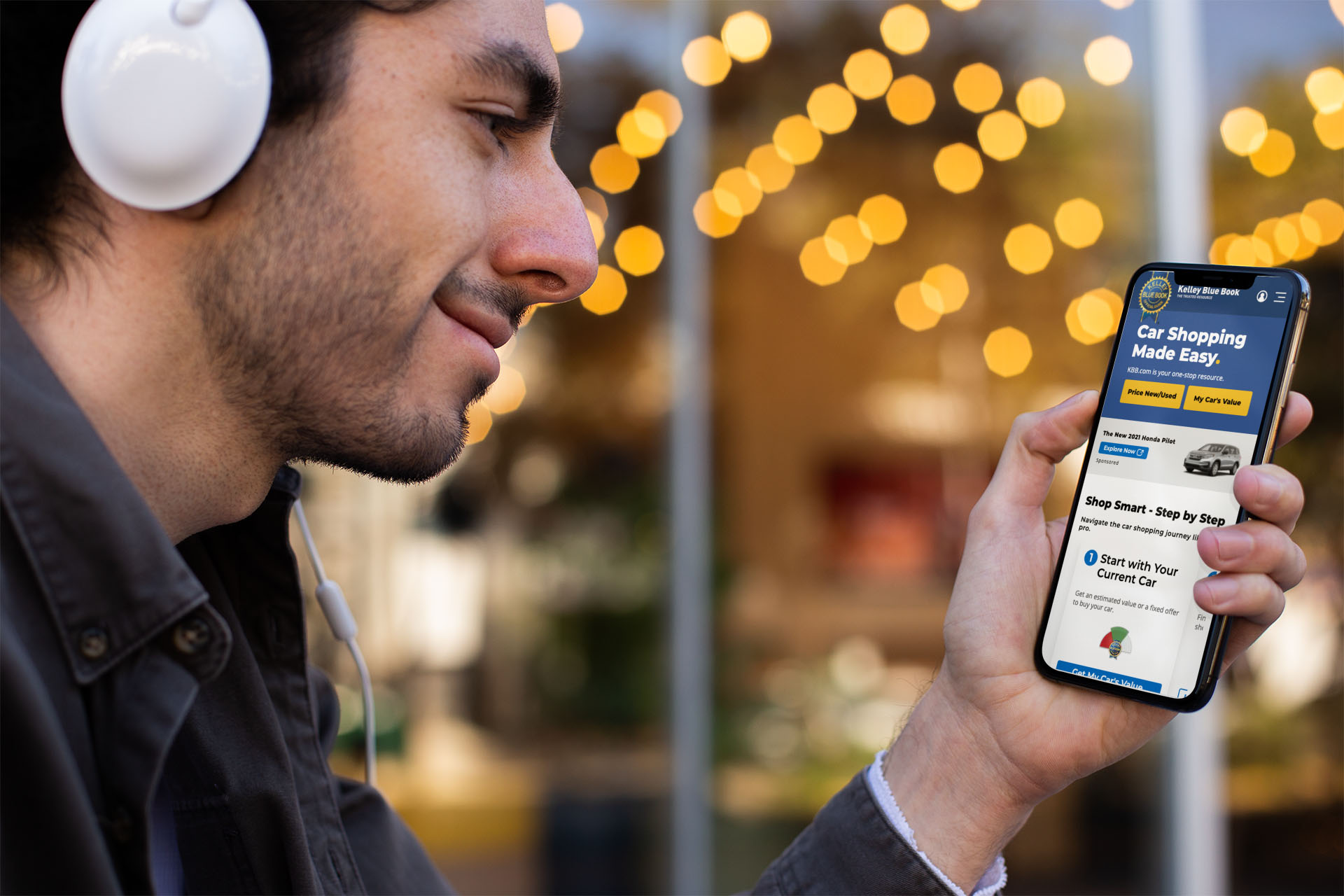 Digital marketing can be a lot like listening to an orchestra warm-up. You hear the beat from the percussion section and long notes from the strings floating in the undercurrent as the woodwinds and brass burst through, notes darting chaotically through the air. Haven't we all had a dissonant online experience where ads and promoted content overlapped and battled for our attention?
What we considered for our symphony
With an orchestra conductor in place, the sounds are guided with a single focus. This person's job is to set the tempo and shape the performance. Turning all the musical inputs into a single, concerted effort to create a melodic arrangement for the intended audience. Along the same lines, the Kelley Blue Book product team started 2021 by bringing hyper-targeted, one-to-one personalization to our KBB.com shoppers. We asked ourselves the following questions:
How can we shape the elements in our orchestra, from consumer insights and native ads to editorial content and brand trust, and arrange them for our audience?
What if we conducted the shopper experience to make sure they receive content based on relevance?
What if we serve content marketing on our site that's music to their ears, so to speak, making them feel empowered, supported, and ready to take the next step in purchasing their vehicle?
Using insights to understand the key players
We knew that promoted content would play a pivotal role in this new onsite experience. Cox Automotive recently conducted a Content Influence Study through Nielsen, and the results were definitive. 77% of new car shoppers believe that content marketing is useful. 70% believe that it is valuable, and more than half believe this information is impartial and objective.1 This study also showed us that Autotrader and KBB.com lead as the top influential third-party sites, as users feel empowered by the trusted, unbiased and reliable content. Our websites, KBB.com and Autotrader, are often the first and last sites visited by new car buyers.2 Pairing these insights with the Nielsen Content Influence Study showed that content marketing is highly impactful at the exploring (beginning) and buying (ending) stages of the car buying process.1
Setting the tempo: Creating the all new KBB.com experience
With CAMP 360 as our "conductor," we created the all-new KBB.com experience, combining our vast network of consumer insights with our site experience. Flexible native and branded ad units serve each guest a unique arrangement of promoted content specific to him or her. This new experience includes:
A personalized, streamlined experience that effortlessly gives the audience what they want
Better integration of native advertising to increase brand trust, improve page speed, and performance
An experience that allows OEM partners to differentiate their products and reach new audiences
These changes decrease the noise and make it easier for the shopper to focus on relevant content and go deeper into steps that lead them toward a purchase. Letting the shopper focus is producing positive results. In 2021, we have found shoppers spending 15% more time on KBB.com editorial content when compared to other automotive editorial sites.3 We're also seeing double digit improvements to value creation on the site which is helping us meet our clients' needs.
Encore!
We're engaging new car buyers with more seamless real-time content marketing so that they find the vehicle that fits their lifestyle and checks their individual list of ideal features. By streamlining each new car buyer's experience, we have found that shoppers are more likely to engage with OEM brands through valuable onsite activities, like visiting year/make/model/trim pages, submitting leads, and viewing listings. Through the end of January, we are seeing these results translate to sales. Total sales for Autotrader and Kelley Blue Book are up 8% year-over-year, in comparison with many of our competitors who have seen recent sales declines.4 We're more effectively closing qualified shoppers, ultimately creating a better shopping experience for our audience and delivering more efficient marketing to our partners. And we'll continue evolving to meet the right shopper at the right time with the right content. In the end, it's really about reducing the noise and creating a beautiful arrangement for our audience.
---
1. 2020 Nielsen Content Influence Study Commissioned By Cox Automotive
2. Car Buyer Journey Study – Pandemic Edition
3. KNOTCH 3rd party data source
4. January 2021 – Weekly Close Rate Report