Discover what the results from a study on today's near-market auto shopper tells us should be at the core of your go-forward business strategy in the coming year.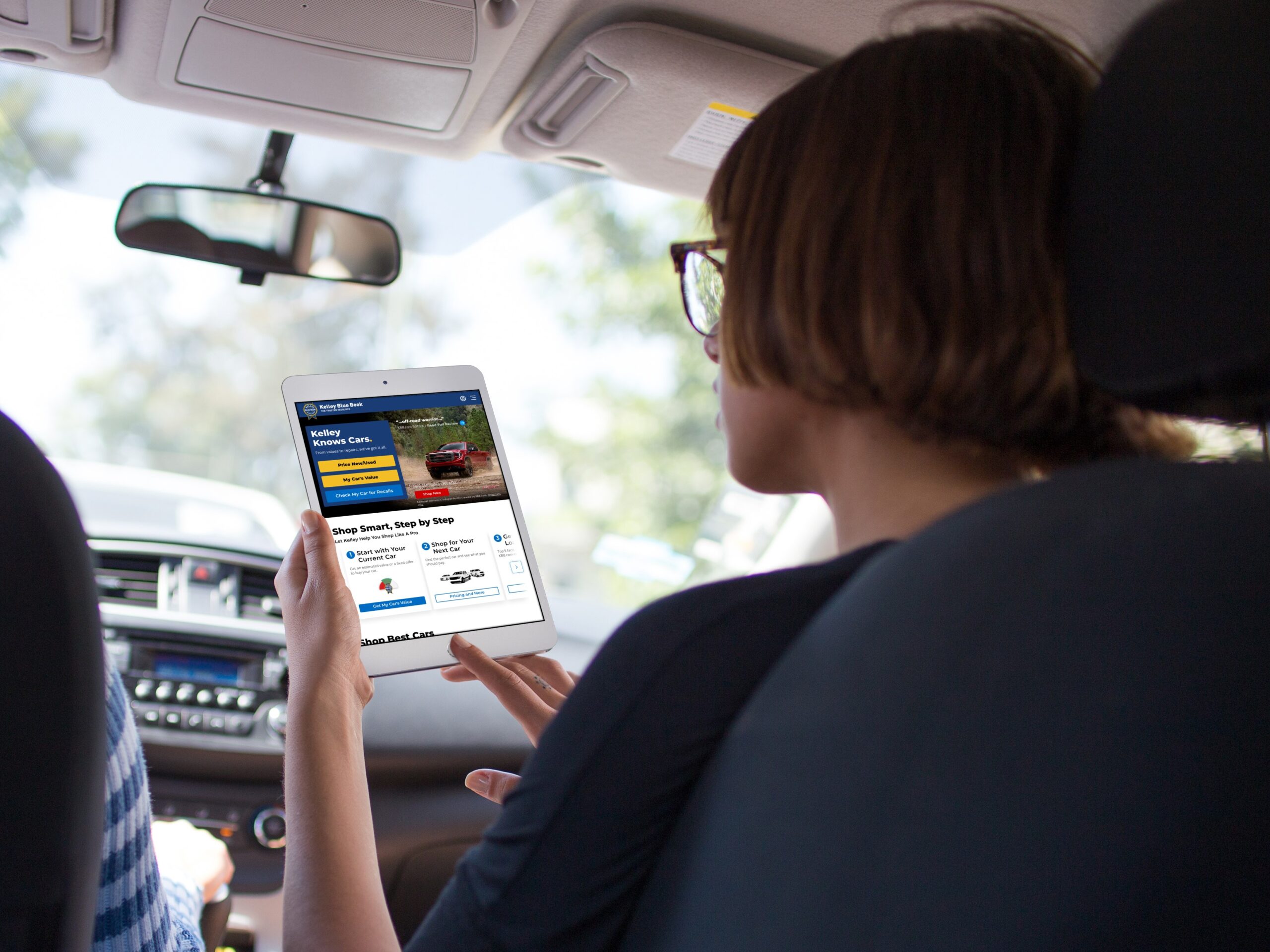 It's no secret, 2022 was a difficult year for the automotive consumer. And shoppers planning to purchase a vehicle in the next 12 months are concerned that economic factors could disrupt their plans, yet again.
Cox Automotive commissioned Morning Consult to continue ongoing research for us around near-market shoppers. The online study was conducted in November 2022 among vehicle shoppers planning to purchase in the next 12 months. So, let's take a closer look together at the Morning Consult's results from the national sample of nearly 700 consumers. By breaking down and analyzing their concerns and barriers, preferences and prime considerations, we'll map out some key considerations for your marketing strategy in the coming year to successfully influence and guide your shoppers.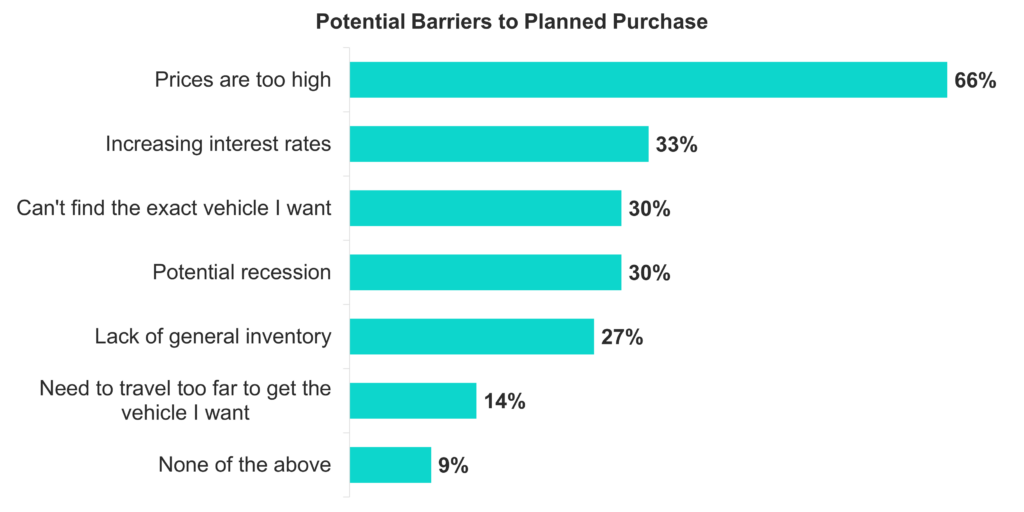 Shoppers are Concerned about Economic Factors 
It's probably not a surprise that the study found that shoppers are concerned about economic factors, especially higher prices when it comes to both new and used cars. Most surveyed think that it's somewhat likely that economic factors could disrupt their purchase plans and are prepared to buy a less expensive vehicle or focus on repairing a current vehicle, if needed.
High prices are the most cited barrier

to the auto purchaser in the next 12 months
All respondents reported concerns about auto prices, higher interest rates, and looming fears of a recession. But a result that's important to note from the survey was that high earners (> $100k) were much more concerned about inventory and getting the exact vehicle they wanted compared to the lower income groups surveyed.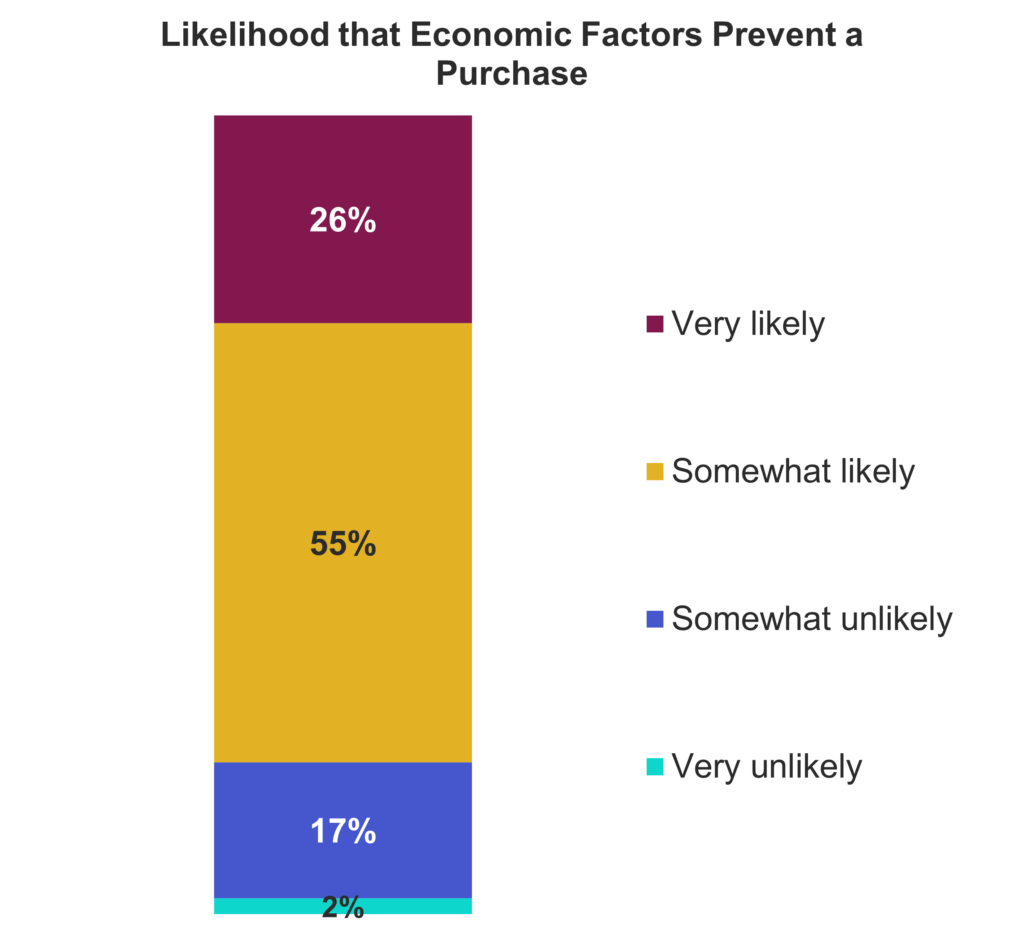 It's also important to note that among those concerned about economic factors, more than 80% say economic factors are at least somewhat likely to impede their vehicle purchase in the next 12 months. Their plan is to buy a less expensive vehicle than they originally planned, or to service and invest in their current vehicle as opposed to buying.
Brand Defection and New Car Pre-Orders are Happening More Often 
Shoppers also shared that with today's market conditions and industry challenges, brand defection is happening more often, as well as new car pre-orders.
Brand and monthly payments are most often the top ranked consideration of the auto purchaser, while model is most often ranked second or third. And as you can see from the chart below, this year's results followed that same pattern. However, brand is more important to people buying new vehicles, and monthly payment is more important to those buying used vehicles.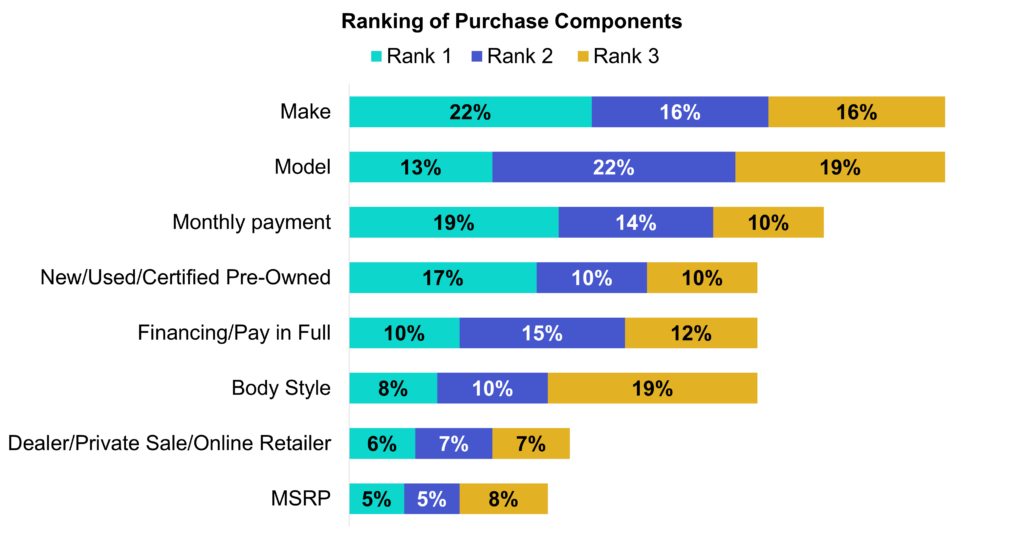 Those surveyed who plan to buy new, as opposed to used, have more options for overcoming budget constraints. They also claimed to be willing to buy their next vehicle partially or fully online as opposed to the more traditional method of in-person, open to pre-ordering, and if faced with hurdles weren't opposed to switching manufacturers.
Here at Cox Automotive we've tracked that 66% of car shoppers are interested in pre-ordering their next vehicle from Autotrader and KBB.com.? OEM's and Dealers both know pre-order can help increase consumer satisfaction because the car buyer is able to get exactly what they want, as well as help reduce the level of brand defections the industry has been witnessing the past year to aid in preserving loyalty.
Just recently, used car pricing started softening from record high increases in 2022. However, the survey results indicated that more than half of used car shoppers would consider purchasing a new car if the monthly payment was the same as a used car. With increased targeting, focus on staying alongside and in front of those shoppers, you'll be able to reach and show them that they can afford a new vehicle after all.
Third-Party Sites Remain a Top Destination in the Purchase Process 
Shoppers in this study again ranked dealer, manufacturer and third-party sites, like Kelley Blue Book and Autotrader, as the primary sites they visited during the purchase process. At Cox Automotive we drive trust, so that the consumer will trust our partners, and our 2022 Car Buyer Journey study revealed that 7 in 10 people visited a Cox Automotive site during the car purchase process.
Auto shoppers primarily visit Kelley Blue Book and Autotrader to find accurate and unbiased pricing information, as well as to check for potential maintenance issues. Gathered through first-party web activity, each year, Cox Automotive hosts over 2.3 billion online visits, manages 80 million leads and sifts through 2.9 TRILLION consumer insights. With our connected data, we're able to deliver predictive insights and recommendations that no one else can.
Car shoppers cite visiting third-party sites during the car buying process because:
– They feel more authentic and believable

– To get a general or unbiased opinion of current vehicle prices

– To get pricing ranges and to see if any major issues are reported for vehicles I'm interested in
Personalization Is Key in 2023
The results of the study made it clear that your key strategy and marketing initiative in 2023 should be around increased personalization.
A data-responsive strategy: You'll have the ability to increase your impact and influence your shoppers with an engaging message at every step of the research and buying process. By staying in front of, and alongside the consumer, you'll have an increased chance to not only stand out, but risk losing the purchaser to another brand.
Incorporate intelligence capabilities: Powered by Cox Automotive's proprietary DRIVEQ, the largest breadth of first-party data in the automotive ecosystem, CAMP 360 ensures your content is aligned to near-market vehicle shoppers' critical touchpoints and allows you to help them with real-time decisioning. This gives you the ability to overcome some of the hurdles mentioned earlier and recommend a pre-order option if the vehicle is unavailable, show used vehicle shoppers that they can actually afford a new vehicle, or aid in convincing shoppers that your model is better than what they originally considered.
CAMP 360 – Data That Drives
Cox Automotive understands near-market and in-market auto shoppers and their behaviors. And with your partnership, our data can make your data drive efficient and more informed marketing decisions.
In the coming year, it's essential for advertisers to be front and center at the critical decision points along the car buyer's purchase journey to influence consideration and reinforce brand loyalty. It's why you need a first-in-class data partner to help you find those shoppers, to not only get their attention, but keep their attention.
With the power of your Cox Automotive Marketing Partnership alongside you, our successes, data, audiences and destinations can be yours. Powered by advanced AI learning capabilities and proven by transparent reporting, CAMP 360 utilizes first-party data across the entire customer journey to ensure the right message and content is reaching, and most importantly, resonating with auto shoppers in the moments that matter most.
Are you ready for data that drives? To seamlessly integrate content and native advertising within a personalized environment? If so – find out more about a CAMP 360 data-driven marketing partnership that can help you reach your goals in 2023.